Hydraulic Platform Elevator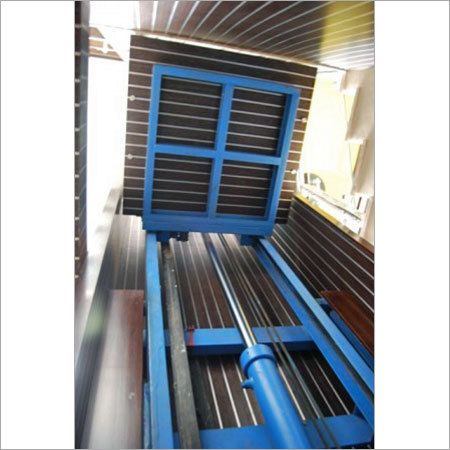 Hydraulic Platform Elevator
Price And Quantity
Product Specifications
1.0M Meter (m)

300KG TO 1500 KG Kilograms (kg)
1.6M Meter (m)

1M X 1M TO 1.5M X 3M
1.2M Meter (m)

Residential Elevators, For Passengers Loading, Sightseeing Elevators, Building Elevator
1.5M X 1.5M TO 2M X 3M

.7M TO 1.2M
1500KG Kilograms (kg)

HYDRAULIC MECHANISM
5-50 Celsius (oC)

Safety Sensor, Repeated Door Closing, Down Over Speed Protection Device, Upward Over Speed Protection Device
Product Description
Hydraulic Platform Elevator

Our firm has gained recognition amongst the affluent manufacturers and suppliers of a qualitative range of Hydraulic Platform Elevator. Our experts use best quality components and latest technology in order to manufacture this elevator. Besides, offered range of elevator is used for lifting materials from ground floor to up stairs. To meet set industry quality standards, offered elevator is strictly examined on varied quality parameters. Keeping in mind clients specific needs, this Hydraulic Platform Elevator can be purchased at minimal rates.
Working of a Platform Lift

The mechanism of a platform lift might seem simple, but in actual, it isn't. The platform lift drive systems are of three types, each of which has its own advantages and disadvantages. Electrical inputs from the call buttons control the modern platform lifts. These inputs send signals to a central processor unit, that starts motors or pumps, as required.

Screw and nut drive system

This drive system is one of its kind. For operations, it uses a steel screw pole that runs the shaft's full length. The motor on the platform and drive nut on the screw are attached to each other. This mechanism on which an elevator movies up and down, works based in the direction in which motor turns the nut. During the installation of this system, a supporting wall is needed especially on longer travel lifts so as to stabilize the unit. One has to routinely lubricate the thread, via a self lubricating system. The disadvantage of this system is screw and drive nut thread's wear and tear. As one side of the lift is used to conceal the screw thread, only three sides of lift shaft can be glazed.

Hydraulic drive system

Hydraulic drive system is another drive system in this list. This system has a lift platform that is attached to a hydraulic ram. A pump in this system pushes the hydraulic fluid from a central reservoir into the ram for the movement of the lift. To rise the lift, ram extends. And the flow of hydraulic fluid is reversed to lower the lift. The disadvantage of this particular system is that it requires an additional space for a pump and reservoir unit. The other problem than rises in this system the odor given off by hydraulic fluid in hot weather.

Encapsulated chain drive system

The last drive system is encapsulated chain drive system, whose key part is the chain encased in a polyurethane plastic casing. This guides the chain and also ensures that slippage is impossible. The chains are attached to a driveshaft which is turned by a motor and gearbox at top of the shaft. Either side of the platform has chains attached. During the rotation of the driveshaft, chains are either pushed or pulled, moving the system upwards or downwards. Durability factor of this system gives the advantage to the lift installer. As the chains run in the corner, one can glaze all four sides of the lift.

Features:
High strength

Reliable structure

Vibration less operation

Easy to install
Contact Us
24, Kartarpura, Road No.4, Bais Godam Industrial Area Jaipur Rajasthan India +918037303617
Phone :+918037303617